I posted about some classes that I had taken not long ago with the Amazingly Talented Dina Wakley.  She said something in class that really struck a cord in me.  That as long as you have the features in the right spot you don't have to have all the details.  While I knew this I did not have the Aha moment applying it to my beads until this class.  See I have an idea in my head about how I want my faces to look… basically like I draw and paint them and well it wasn't working in glass.  I wanted the little details you just can get unless you are enamel painting.  I do plan on tinkering with that at some point but now is not that time.  Anyway here is the first Loose Face Focal I made that I mailed to Dina as a thank you for the inspiration.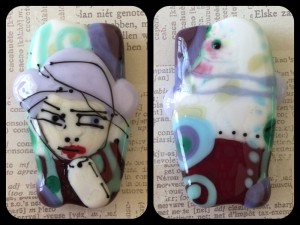 I love how a bird showed up on the back side of the bead.  Birds have been showing up a lot in my work lately.
Here are the other loose face focal's I have created since I started.  I am enjoying the process very much.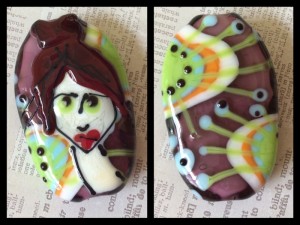 If you would like to find out more about Dina and her art please visit her site www.dinawakley.com

This entry was posted in