Recently I was taking two classes at Whim So Doodle in St. Pete with Joanne Sharpe.  Both were Free Motion Quilting techniques.  Joanne said to me that I was talented at everything that I do.  I was a little startled by that statement.  I by no means think I am talented at everything I do but I have heard it before so it made me stop and think.
My Mom told me a story not long ago about when I was young.  She had entered my Brother and I in a drawing contest at (if I remember the story correctly)  Holy Spirit Hospital.  She said when they were announcing the winners that I was perched on the edge of my seat ready to run up on stage the moment my name was called.  She said I just knew that I would win something and as it turns out I did.  I think I have tapped back into that feeling now as an Adult.  There are NO MISTAKES in art feeling.  That create with abandon feeling we used to get as children but went away as we grew up and were told that we were doing it wrong.  I gave up drawing and painting for a long time because I was told by a College Professor that he had no clue how I got accepted to Art School because I sucked.  I thought to myself well then it is a good thing that I came here to make jewelry.  Well those that see my art now are surprised that I gave it up for so long.
I think my point in all this is that I have become Fearless.  Especially when I am learning something new.  I just go for it.  Last weekend was no different at Whim,  I went for it with Free Motion Quilting and I am so happy with the results that I am now looking into getting a sewing machine.  I loved the process and this is the second time I have taken a class from Joanne.  She is an amazing teacher!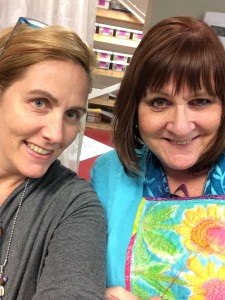 So try to quite that voice in your head that tells you "You Can't" because YOU CAN!  And just GO FOR IT!  I am sure you will be pleasantly surprised with the results when you get out of your own way.

This entry was posted in