The rest of the year just flew by!  I can hardly believe it is 2015 already.  I kept intending to update my blog but then got distracted by life… the best intension right?!  Well I had a Fantastic 2014!  My Beads are selling like crazy.  I fell in love with Jamberry nails and started selling them as well.  (www.dizzyloves.jamberrynails.net)  Here are two of my all time favorite Jamicures so far.
I have been doing some Trunk Shows on facebook and the response to my work has been so incredible.  I am so blessed to be able to do what I love.  Also I have been doing a show every second Saturday in my neighborhood.  So lots of stuff going on!
Last year I also started to do EFT or Emotional Freedom Technique.  And it has helped me in so many ways. Some of the Art that I have produced after sessions have been some of my all time Favorite work.  Here is one of my favorites.
Let see I was also in the Tradewinds newspaper in St John USVI for painting my fathers Land Rover.  There is a big movement going on in Coral Bay right now to get plans for a big Mega Yacht Marina thrown out.  Check out  #savecoralbay for more information.  But here is the finished piece.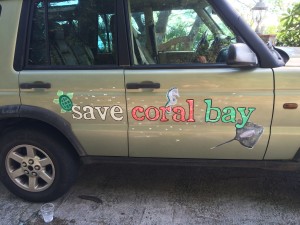 I also rescued another black kitty.  We have named her Lopo.  But everyone calls her the Ghost… because she is very skittish and avoids everyone but me…. and even then if I go to pick her up she is off like a shot.  But she has come a long way from when we first brought her home.  She is beautiful and getting so big!

I think that about covers it I will end this post with pictures of my most recent bead work.  I hope you enjoy my creations as much as I enjoy making them!

This entry was posted in