I try to be happy and grateful for all I have everyday.  I wake up and go over all the things I am grateful for in the morning.  I have an amazing view from the windows in my bedroom.  The other morning I saw two river otters frolicking along the banks of the pond out back.  How awesome is that!  Today I woke up to find out that two orders I placed are arriving tomorrow!  My brand new business cards I ordered from Moo!  And a large order from Fire Mountain Gems.  Can't wait to see my new business cards.
On the Bead front… I have been trying to get Custom orders done along with pendants for my upcoming shows.  Again I was asked to make things I was not sure I could pull off but boy was I wrong!  I am super pleased with the results!  I was asked to make a girl with a sewing machine and another with a baseball theme.  Which again goes back to believing you can and you will.
I was so pleased with how the sewing machine girl turned out!
Here is my Baseball themed girl for the Yankee fan.
I also did one for my Niece who recently celebrated a birthday.  She had a purple stuffed hippo that she adored as a child.  I took some liberty with the coloring on the hippo as I think it was purple/ivory… I used pink instead.  I hope it evokes beautiful memories of her childhood.
I have been a torching fool getting ready for my first ever big "Festival"  Here are some of the beads I have been producing…
Oh and I almost forgot I received my brand new table banner.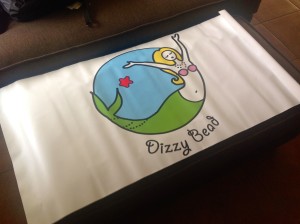 Okay enough rambling for the day… thanks for taking the time to visit my blog!  Oh and I have added a Subscription link to my home page.  So if you don't want to miss anything please take a minute to subscribe and Thank you!

This entry was posted in