Here we are in 2014 and it's Tax season already!  It seems like just yesterday I was doing my business taxes… First year I am showing a profit.  Exciting!  If I continue I will need to start paying myself a salary.  Weird… Who would have thought, but I guess being persistent is paying off.
On to more fun topics I recently made a trip to San Francisco to spend a lovely Valentines Day with my wonderful Husband.  I had a great time even with all the fog!
It was sunny where I was sitting and pea soup on the water!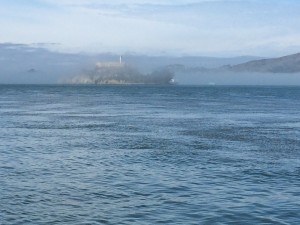 That is "The Rock" lurking in all that fog.  I can't even imagine being locked up there!
I worked on two art journal pieces in between long walks around the city and a visit to Dick Blicks for lots of new yummy art supplies!
Right now I am frantically finishing up a Flamingo  that will be on display through out Florida this year for an Estuary Project to promote clean waterways.  I am calling her Fanny and she will be delivered on Friday.  Here is a progress picture.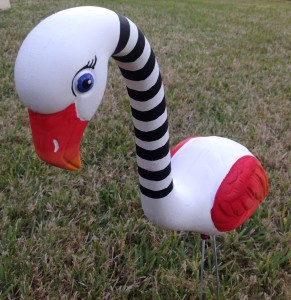 I am also gearing up for two upcoming shows!  I will be at the Winthrop Arts Festival March 22 & 23rd.  It's in Riverview FL.  Come on by and say hello if you get a chance!  I am also going to be at the Art-is-You Dixie Trunk show Wednesday April 30th 5pm to 9pm.  I am super excited about both shows!

I will post pictures of glass work in another post another day.  There will be lots of it.

This entry was posted in